Arjuna Harjai is an Indian composer, singer, and musician who has established a name in the Indian film and advertising industries. Known for his compositions in films like Nikkhil Advani's "Lucknow Central" where he composed three songs, background scores, and soundtracks for trailers and commercials, Arjuna Harjai has showcased his immense talent and versatility. He has also collaborated with renowned music composer Lalit Pandit on projects such as "Besharam" and "Dabangg". With a portfolio of over 500 advertising jingles and contributions to a dozen feature films, Arjuna Harjai has established himself as a prominent figure in the advertising and film music domain. His work is highly acclaimed, and he is recognized for his expertise in composing captivating tunes. He has two YouTube channels, "Arjuna Harjai" with 1.2 million subscribers, featuring vlogs, and "Arjuna Harjai 2.0," where he hosts engaging podcasts with interesting guests.
We had an interaction with him and here are the excerpts:
What inspired you to pursue a career in music, and how did you get started as a composer and singer?
From a very young age, music was an integral part of my life. My parents, both trained musicians, were instrumental in shaping my musical journey. I was blessed to be introduced to the world of music as early as 2-3 years old, learning from both my mother and father. By the age of five, I was already singing complex ghazals and even had the opportunity to accompany my mother to her studio recording sessions as she is a top grade artist with All India Radio. These experiences were both fun and incredibly enlightening. Observing my mother in the recording room, performing with live musicians, was deeply inspiring. My younger brother Aditya Harjai and I relished these moments, and they undoubtedly played a significant role in inspiring my pursuit of a career in music.
My father, too, made sure that we were exposed to a variety of genres such as pop, Sufi, ghazals, RnB, Soul, and many more. This eclectic exposure has played a crucial role in shaping my understanding and appreciation of music. Therefore, my career in music feels like a natural progression. I was fortunate to have grown up in a musically enriched environment, and this early exposure and training instilled in me the passion and inspiration that drove me to become a composer and singer, the most difficult part was to move to Mumbai without any contacts or network, To this day, those fond early memories continue to inspire and guide my work.
You have worked on several feature films and advertisements. How do you approach composing music for these different mediums, and what challenges do you face in each?
My approach to composing music for films and advertisements varies quite significantly, primarily due to the different demands of these mediums. When it comes to film music, generally, I am afforded more time. My preferred method of composition for films involves crafting the melody first. Once the melody is established, I collaborate with the lyricist to develop lyrics that are in line with the film's context and requirements.
In contrast, for advertisements, the process is often more streamlined and fast-paced. Here, 95% of the time, the lyrics are provided by the agency creatives. My role then is to create a melody that fits these lyrics and aligns with the brand's sonic identity.
Background scoring for films, given the longer format, offers more time to develop and establish themes. However, in advertisements, the focus is on punctuations and 'penny drop' moments. These are critical in creating impact and making the ad memorable. Furthermore, creating an end tune or mnemonic that resonates with the audience and enhances the brand recall is a vital part of jingle composition.
I would say each project comes with its unique challenges, but keeping an open mind and having the ability to learn and adapt quickly can help overcome these. Struggles are an integral part of the process, but they also offer valuable lessons and opportunities for growth. Regardless of the medium, my goal is to create music that connects and leaves a lasting impression
Can you walk us through your creative process when composing music? Where do you draw inspiration from, and how do you translate that into a piece of music?
My creative process is largely influenced by the narrative I am working with – be it a film or an advertisement. As an artist, I believe it's essential to hone the ability to derive inspiration from the story or script. Interestingly, I have a somewhat poor memory when it comes to remembering tunes and lyrics, but this trait works to my advantage. It ensures that my past work doesn't inadvertently influence my current projects, allowing me to approach each new endeavour with a fresh perspective.
After having completed over 500 projects, I have come to realise that my biggest source of inspiration is the director's brief. When composing for any project, our role as composers is to reflect the director's taste and style, not our own. The essence of what we create is drawn from the director's vision.
Therefore, if a soundtrack or jingle turns out to be exceptional, it is primarily a testament to the director's vision. I see my role as a translator, converting that vision into a piece of music that can resonate with the audience. Through this process, the inspiration drawn from the director's brief becomes a sonic reality, augmenting the storytelling and enhancing the audience's experience.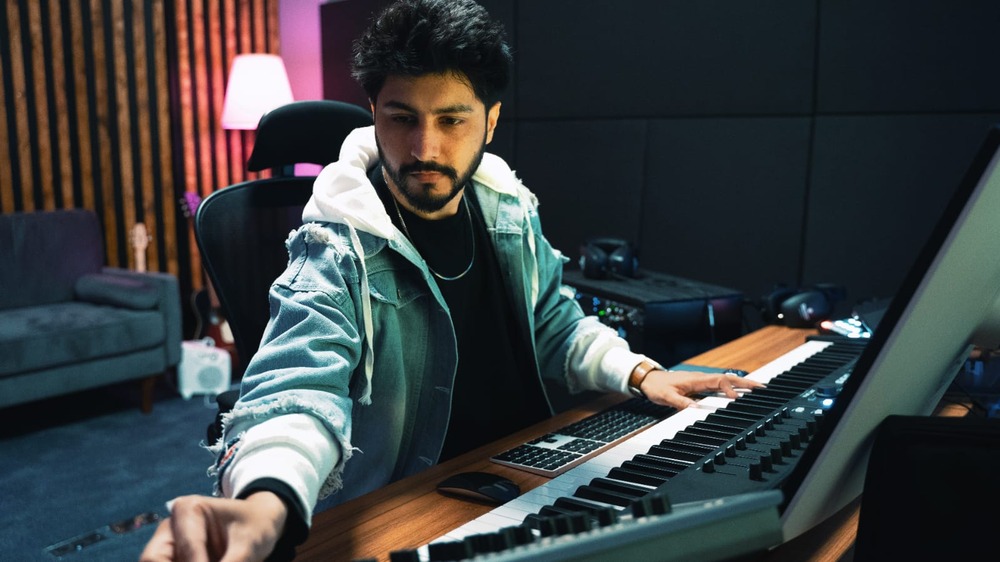 You have a portfolio of over 500 advertising jingles. How do you ensure that each jingle stands out and captures the audience's attention in the short runtime of an advertisement?
Creating a distinctive jingle for each advertisement is indeed a challenge, but it's one I relish. I've had the privilege to work on numerous successful campaigns, each requiring a unique approach to engage with the audience in the short runtime of an advertisement.
Take, for instance, the soundtrack for the 'Chattein' campaign by Ambuja Cement. In this project, I had the honor of collaborating with the legendary Gulzar Saheb. Our aim was to create a sonic experience that could embody the strength and durability that Ambuja Cement stands for. Through meaningful lyrics and a melody that struck a chord with the audience, we were able to communicate the brand's message effectively.
Similarly, in the 'Amazon Wale' campaign, the challenge was to encapsulate the wide array of products and services Amazon offers within a catchy tune. I worked with Amitabh Bhattacharya to create a jingle that was both memorable and representative of Amazon's brand identity.
The 'Dettol Dettol Ho' campaign presented a different kind of challenge. Collaborating with Prasoon Joshi, our goal was to create a jingle that could reinforce Dettol's longstanding reputation as a trusted protector of health. The resulting tune was catchy, reassuring, and instantly recognizable.
In the case of the Flipkart campaign, I had the opportunity to collaborate with Kausar Munir for their Father's Day special. Our task was to encapsulate the heartwarming bond between fathers and their children within a tune that resonates with the audience. We aimed to create a jingle that was warm, relatable, and memorable, reflective of the love and respect associated with the occasion. The resulting tune beautifully echoed the spirit of Father's Day, enhancing the overall message of the campaign.
In each of these cases, understanding the brand's unique identity and message was crucial. I always aim to translate this understanding into a memorable tune that connects with the audience on an emotional level, encapsulating the brand's story and enhancing its recall value
You have also composed and sung for Independent projects. Please share your experience on that and what do you think about independent projects in our country today?
Independent projects provide an exciting platform for musicians to showcase their individual style, influences, and personality. However, the transition from working on film or advertisement briefs to composing for my independent release initially proved to be quite challenging. With my extensive experience and exposure to a broad range of genres, I found myself grappling with the limitless possibilities independent music offers. I often felt like I was standing too close to a target, unable to see it clearly due to the overwhelming array of choices before me. Working across diverse genres and capacities within the Indian film industry, I had become accustomed to aligning my compositions to specific requirements. Stepping away from that structured approach was initially confusing, and I recognized that I needed to gain some distance to clearly define my personal musical direction.
As serendipity would have it, the onset of the COVID-19 pandemic provided me with an unexpected opportunity to work remotely. Moving to the UK, away from my usual working environment, offered me the space and perspective I needed. It allowed me to clarify my musical targets, providing me with a fresh perspective and a clearer understanding of my individual sonic identity.
Today, I'm not only working on film and ad projects but also exploring my personal musicality within the realms of Pop, R&B, Synth wave etc. I'm thrilled about the release of my upcoming Punjabi single and look forward to sharing more of my independent work in the future. I believe independent projects in our country today are extremely important. They offer musicians an unfiltered canvas for creative expression, while also diversifying the music industry and providing listeners with a greater variety of musical experiences.
How do you strike a balance between singing and composing? Do you prefer one over the other, and why?
In the initial stages of my career, I was primarily inclined towards singing. However, witnessing the creative process of music directors like Vishal Bharadwaj and Ajay Atul completely transformed my perspective. Observing how they composed an entire song intrigued me, I realised that I craved a more involved role in the creation of music beyond just lending my voice to it.
While I had been trained in singing from a young age, the challenge of composing, arranging, and programming music excited me. My background in Indian and Western classical music, as well as in sound engineering, facilitated a swift and seamless transition into these new roles.
As for striking a balance between singing and composing, I wouldn't say there's a specific balance to be struck. I'm primarily recognized as a composer, and most of my professional engagements have been in this capacity. Although I've sung a few of my compositions, I'm not usually approached purely as a singer.
However, I'm not bound by this distinction and remain open to opportunities that would allow me to explore singing further. I believe that both singing and composing offer unique experiences and challenges, and navigating both enriches my understanding and appreciation of music. Ultimately, my aim is to contribute to the field of music in as many ways as I can, whether that's through composing or singing.
You have a large following on YouTube, with over 1.2 million subscribers. How has this platform helped you connect with your audience, and how do you use it to promote your work?
The COVID-19 pandemic, while certainly challenging, unexpectedly opened new doors for me in terms of engaging with my audience. As work shifted remotely, I found that I could complete projects in a matter of hours rather than the typical span of a few days. This newfound time allowed me to explore the digital platform more expansively, particularly YouTube.
Initially, my foray into YouTube started with interactive music sessions and creating songs using Instagram stories and lyrics suggested by fans and supporters. This activity sparked a fascinating two-way interaction with my audience and allowed me to connect with them on a personal level. However, as time progressed, the content on my channel evolved to become more vlog-centric.
My viewers showed keen interest in glimpses of my personal life, including my dynamics with my wife Divya Harjai and our newly born son, Avyuktha Harjai. The story of our family moving to the UK, with Divya pursuing her goals and me finding clarity in mine, struck a chord with our followers. They found our shared experiences, daily struggles, and life adjustments both relatable and intriguing.
However, as life settled down and Divya finished her second Masters, I found myself with more time to refocus on my musical endeavours. As a result, my YouTube channel may shift towards a more music-centred approach, interspersed with occasional vlogs to maintain the personal connection with my audience.
Overall, YouTube has served as a valuable platform for promoting my work, sharing my journey, and forging stronger bonds with my followers. The ability to interact directly with over 1.2 million subscribers and receive their feedback has been truly enriching
What are your plans for future projects, and what can your fans expect from you in the coming months?
There are several exciting developments in the pipeline, and I can't wait to share them with my fans. One of the projects I'm particularly looking forward to is my upcoming Punjabi single. I've poured a lot of heart into this piece, and I hope it will resonate with my listeners. We are planning to release it by the end of July, so do stay tuned!
In addition to my independent music and few bollywood films, I'm also thrilled to have composed music for a Marathi film. This experience has been incredibly enriching, and I'm excited for my fans to hear this new work.
While I can't reveal much more at the moment, I promise there are more interesting projects on the way. As always, I'm committed to creating music that inspires and moves my listeners. I appreciate my fans' continued support and am excited about the journey we have ahead of us.
What advice would you give to aspiring composers and singers who are looking to make a name for themselves in the music industry?
As an experienced composer and singer in the industry, my advice to aspiring artists is to aim for versatility and independence in their craft. Rather than focusing solely on singing or composing, consider developing yourself as a complete musician, someone who can compose, sing, produce, mix, and master. Having a diverse skill set will not only increase your value in the industry but also open up more opportunities for you.
Another piece of advice I'd like to share is about perspective. Many musicians start their careers with the goal of eventually breaking into Bollywood, seeing it as the pinnacle of success. While Bollywood is undoubtedly a prominent platform, it shouldn't necessarily be the ultimate goal.
In my opinion, establishing yourself as an independent musician, owning and controlling 100% of your work is an incredibly rewarding and fulfilling achievement. We often underestimate the power of independent music due to the overwhelming influence of Bollywood, but we must remember that as artists, our worth is not determined by our association with any particular industry.
So, my advice would be to focus on upskilling, creating, and releasing as much music as possible, and promoting it through available means. If your work resonates with people, Bollywood and other big platforms will naturally take notice and may license it for use in their projects. The key is to stay true to your craft and create music that genuinely reflects who you are as an artist.