Mumbai, 15th September 2022: LA-based electronic pop artist, Hasitha Guhan, makes her way back into the independent music scene with her newest single "H2O" which released on September 9th. The single is paired with Guhan's long-awaited music video, available now on YouTube!
Watch the video song here:
"H2O" is a perfect party song to end your summer, nostalgic of 2010s female popstars – Katy Perry, Lada Gaga, and Ke$ha! The track unpacks a longingness for love and the need to feel vital to someone. Guhan has effortlessly juxtaposed heavy pop production with deeper lyrical meaning in this song, creating a puzzle for listeners to unlock. With already distinguished vocal skills, singing backup for stars like Taylor Swift and JoJo, "H2O" newly demonstrates Guhan's songwriting talent and unique lyricism. Growing up in a South Asian household, Hasitha has also been inspired by Indian Classical and Pop music, which has translated heavily into Hasitha's sound in this track. Guhan is a force for change, making it her mission to introduce more South Asian voices into the music industry including her own! Stay tuned for more news on Hasitha Guhan soon.
About Hasitha
Hasitha Guhan is a pop artist based in LA and the DMV, as she studies music at UCLA. Wanting to see more South Asian people in mainstream music, Hasitha has dreams of becoming a pop star, to hopefully bring about a change. Music has always been a constant in Hasitha's life, as she grew up watching her mom sing Indian Classical music, and later on, became immersed in pop music and culture. Hasitha has dabbled in singing many different styles of music, from pop to country to opera to classical Indian. She is also immersed in the world of acapella music, which has allowed her to take her vocal arranging and vocal production skills to the next level. She is musically and visually inspired by artists like Lady Gaga, Ariana Grande, and SZA.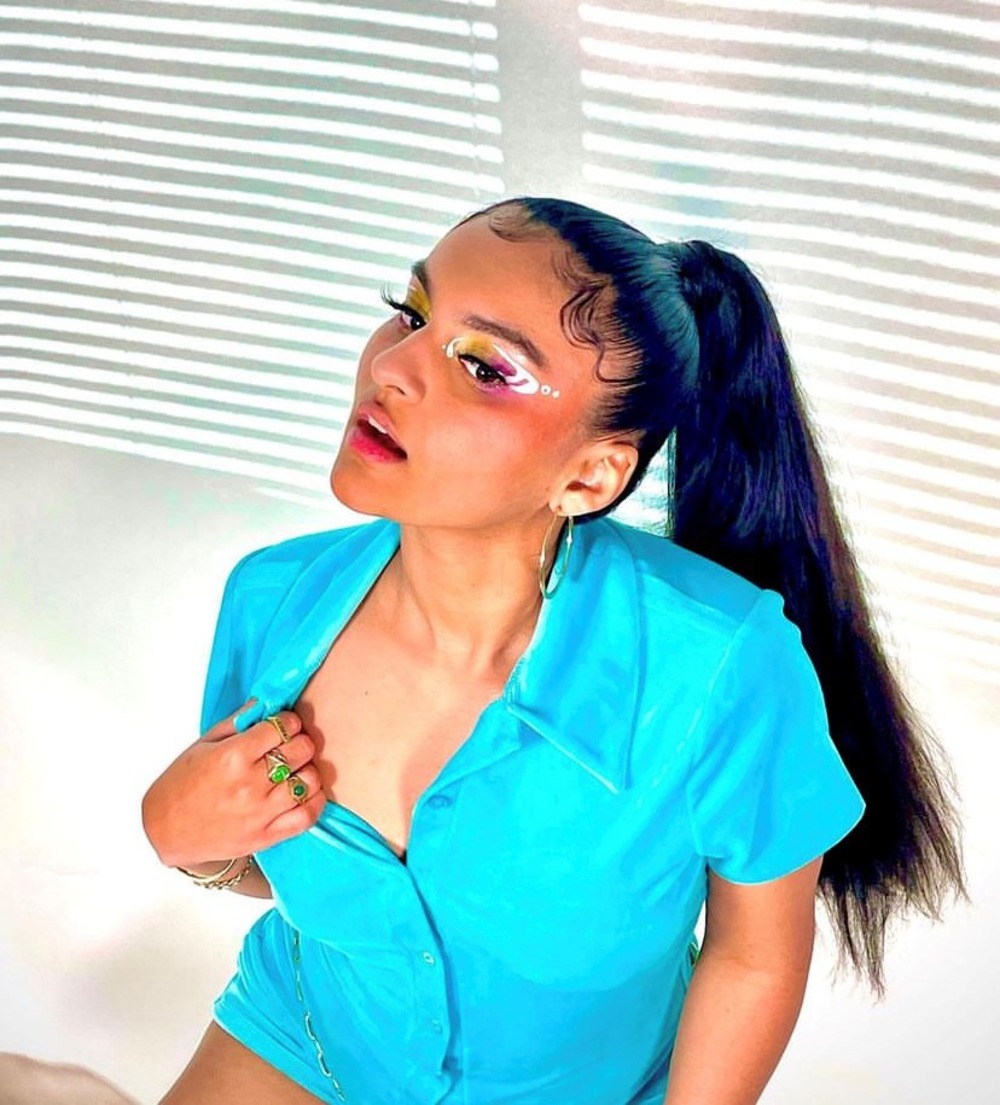 As a member of the Scattertones, a top collegiate acapella group, she has sung backup for stars like Taylor Swift and JoJo and performed at the 2022 ICCA Finals in NYC. Her musical accomplishments include performing at the John F. Kennedy Center, as well as attending a masterclass with Jacob Collier as a part of a highly selective All-State choir. Hasitha has found success on TikTok, with her covers amassing one million plus views for her riffs and high belting register.
Music is and always will be a huge part of Hasitha's life. It brings her joy, and she hopes to inspire others like her to live their truth, to follow their passions, and unapologetically be who they are in a true essence. "The wave of female pop artists we had in the 2010s, like Katy Perry, Rihanna, and Ke$ha, inspired me to go into a more dance, electro-pop direction. We dance to not think about our problems, at least some of us. So why not juxtapose heavy electronic pop production with a deeper, even dark lyrical meaning? The lyrics can be a puzzle people can unlock, and the melodies and production can be something to dance to! At the end of the day, I want my music to relate & connect to people, as well as something they can have fun with. The truth should shine. Good vibes all around", she says.