Qaran is one of the fastest rising names in the industry. He has been in the industry for about a decade having worked with Shankar Ehsaan Loy, Pritam as a producer, his big moment came with the song 'Tareefan' featuring Badshah. With the movie 'Thank You For Coming', he is soaking in the success of his songs 'Haanji' and 'Desi Wine'. We had a candid chat with, check out what he has to say.
'Haanji' is an amazing song. How did it come along?
This song actually came up very quickly however, its production took some time. I wanted to push boundaries for what a Bollywood song can sound like. With the mammoth machine that Bollywood is, it gave me the opportunity to make an effort towards creating something that is not exactly the way people perceive Bollywood music as. So, while I could compose the song quickly, carving this sound took some time. Once the song was done, I played both 'Haanji' and 'Desi Wine' to the production house and the songs got locked immediately.
Watch the song here:
'Tareefan' was one of your biggest songs and to now with making music for 'Thank You For Coming', how has your journey been?
My journey in Bollywood started in 2013. I started producing for Shankar Ehsaan Loy and Pritam when I started, it gave me an opportunity to learn from them. Took a few years to understand the industry, culture, musicality, and the pulse of the audience. When 'Tareefan' came out, I was confident in my own space. From there onwards, I did some independent music with Sony, pandemic came, and things slowed down a bit and now we are on the other side of pandemic with things picking up well.
Watch 'Tareefan' here:
You work with labels and independent, how do these two connect?
I like to work in movies to bring my sound to the film over any kinds of situational expectations. That it fits in the situation is a completely different thing, the essence is about my sound being a part. 'Haanji' was supposed to release independently, the movie happened, it wasn't a plan. For me, whether its film or independent, I like to keep my sonic signature and blend in.
An artist in front of camera creates identity and connect with the audience. What are your thoughts on this?
In my independent music, I am always in front of the camera for my songs. Having said that, I think I may not have publicly exposed myself so much yet. But hopefully with the success of Haanji and Desi Wine, I would be looking to be more visible going ahead.
What are the next projects lined up for you?
Every three months or so there will be songs coming out in movies. I feel you will experience pretty cool vibes with those songs too. I am quite excited to see how the response comes when the songs are out. Apart from this, there are independent songs coming out as well. I am quite looking forward to the independent music because there is more creative control and there is a story to tell. In a nutshell, more music coming your way for which I am very very excited.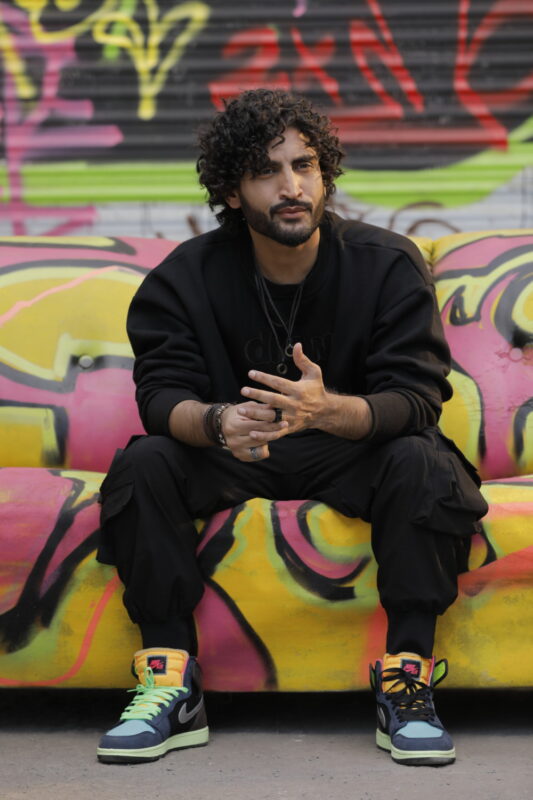 What are three most priority aspects for you when you compose music?
The first thing is that my music should make me feel something. When the music connects with me, the chances of it connecting with audience are higher. Second thing is pushing the boundaries. It's easier to play on your successes but adding something more to your sound will give you legacy. Third thing for me is about putting some part of myself in the song. I have lived and experienced various cultures and I try to put my experiential learning of cultures in my sound. 'Desi Wine' for example brings my life from Caribbean music into the song and it gives me immense pleasure to create something like that.
How important you think is mentoring in our industry?
I would say, for most part, I have been self-mentored from the sound perspective of mine. But I would have to say that when I started off as a producer with Shankar Ehsaan Loy, it was Ehsaan who gave me a chance and push. He had no reason to do it, but still did it. For me, be it Shankar Ehsaan Loy or Pritam, they have played a part as a mentor, having learnt a lot from just being with them.
Is there any particular incident from your early days that has remained with you?
Yes, and it relates to Ehsaan Noorani. People need to know the gem of a person that he is. I was working on an ad jingle along with Ehsaan and those were the days when I was broke. I was living on a very little money, times were tough. So, I went for the session, but the ad agency had some creative change, and the project was gone. After a week, I was at Yash Raj Studios and Ehsaan called me to a side. He had an envelop in his hands and he said that it is for me. Since the ad did not happen, I wasn't expecting anything and shared this with him too. But he said that this is for me for showing up and that's the least he can do. Back then, that cheque paid my rent, he didn't have to do it but still did it because that's the kind of guy he is. Those were my early days of real struggle, and this incident will always be with me for my life. In many ways, I would also want people to remember me the way I remember Ehsaan.
How do you sync the western sound with Indian ethos?
I immerse myself into the culture where I live in. I get a lot of gratification in finding the overlaps in our cultures across the globe and tuning them in music. This world is one big family for me and there is cultural connection we can draw through music and personal experiences. That's what helps me sync the western sound with Indian ethos too.
What are your plans for performing live in the coming times?
I started my music as a DJ and have done a lot of shows during my early years. Having said that, I did draw myself away from live scene to focus on creating my own catalogue of songs. This journey has taken 10 years and now that I have a catalogue of my own music, I am looking to come back on stage at some point.
Artists as Brands. Your thoughts?
I think music has changed over last 50 years from a point where music was sold to now where music is used to sell things. That's a fundamental change and is coming in India too. There are brand deals happening as we speak for artists too, but there is an institutionalised hierarchy which everyone has become very comfortable with. This is changing and the more we can develop the face value, more brands will look to leverage our influence.
Last question, what would you pick – Legacy or Stardom?
Legacy, any day!
Well, with the music coming out, there surely will be a legacy in times to come!