Mihir's brand of Handpan music has been making waves with his uplifting blend of Audio-Visual experiences. An expression of music that, in the International HANGDRUM & Music Scene, conveys the echo to the era of harmonic melodies, Mihir Chandan attracts an audience size of 200,000+ on all social media platforms combined. A deeply rooted heritage musician, Mihir Chandan is an unconventional music composer and producer. His signature sound encapsulates the heart and soul of the rich musical legacy of India, by contouring unconventional concept videos that the world has never witnessed before. In his latest collaboration with Rahgir, the duo has recently launched DESERT CRY this month which is a unique fusion Folktronic Track, which deep dives into the electronic end with a powerful original composition by Rahgir at heart.
We had an interaction with Mihir recently, here are the excerpts:
Can you tell me about your background? How did you discover the Handpan, what interested you about the instrument, and from where did you learn to play?
I have been a drummer since 2005 and have played for many rock bands in that decade. I came across Handpan during my UK trip in London, a busker playing the instruments on the streets of Marble Arch. I was immediately drawn to it and the vibrations of the instrument. This instrument is fairly new and barely a few thousand people have access to it worldwide. Thus, this instrument can only be self-taught and used as a form of self-expression.
Watch their latest song "Desert Cry" here:
Who are your musical influences?
Mozart has been my all-time major influence. But in the new age world, I am awestruck by a plethora of genres ranging from techno, movie soundtracks, classical music, deep house, and folk Tronic. Some of the artists I personally love listening to are Hans Zimmer, Ben Bohmer, Mono link, Carl Cox, Bhimsen Joshi, and many more.
You're the only Indian who plays techno Handpan. How did you discover this fusion between two drastically different genres of music as Handpan is considered to be soothing music?
I am a Music Producer and love experimenting in the techno, house, and folktronica space. I love adding natural elements to electronic products as it emulates a natural feel to the track and creates fusion. Handpan is one of the few instruments in the world that is rhythmic and melodic and natural, so it almost felt natural to use Handpan to bring out a strong flavour to the electronic genre. Something like a mad scientist experimenting and discovering a breakthrough, as the aggressive sounds of electronic music of techno get balanced by the melodic calm sounds of the Handpan. Makes it more accessible to a wider set of audiences I guess.
Photo Credit to Aashish Fonseca
What have been your biggest challenges as a Handpan artist in India?
Handpan is not easily available in India and it is tricky even to get your hands on one, and thus at times needs to be imported. Handpan is such an unknown instrument and thus the sound set up for any act is almost the biggest challenge. Everything in space is India's first at the moment and thus sound gear required to capture this beautiful mystical sound is one big experiment. I have used over 20-30 models of mics from condensers to dynamics and pick-up and still feel it doesn't capture the essence of the instrument.
Is there an audience for Handpan in India?
People are more open to new experiences than ever before. At every event I play, most of the attendees are experiencing the Handpan for the first time ever and are awestruck. Slowly and steadily there is a growing audience and happy to be a pioneer in creating this space.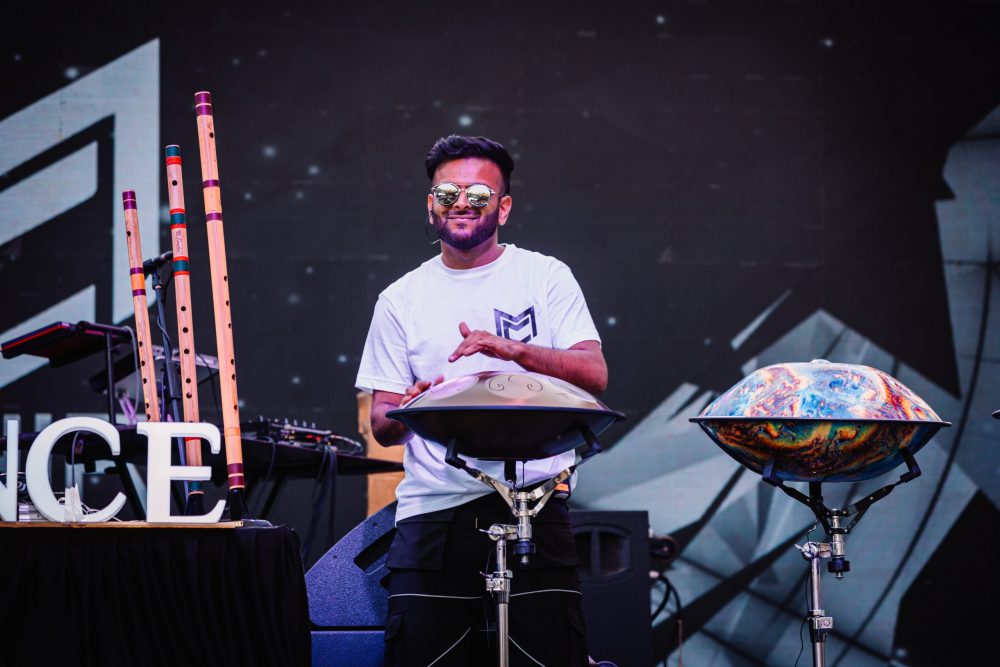 Photo Credit to Aashish Fonseca
How do you infuse techno/electronic music with Handpan? If you could run me through the process.
Handpan is restrictive in nature as they tuned to only 1 scale; thus the biggest part of the process is working behind the scenes at the studio. Producing, transposing, mixing, and mastering tracks and more importantly making them gig-ready. It is a tedious process of producing every single track that needs to be played along with the Handpan. Sadly the audiences will never know that it takes weeks of work behind the doors, just to make a 120 min set possible.
Techno music is usually played at clubs, and larger festivals so what made you be a regular act at a resto-bar Silly every week?
In a sea of regular Bollywood, commercial joints in the city, Silly shines through on its vibe check. My first experience with Silly was post lockdown and it still is the buzz of the town with a new approach to experiences. The patrons at Silly, just like the aura of the place open to new experiences and always stick to the deep house, medallic techno, and progressive vibe.
The fusion of Swiss Handpan with Rajasthani Sarangi is a blissful amalgamation and first of its kind. A track worthy of representing the New India & creative genres of the forthcoming Instruments used in audio: Handpan / HangDrum, Sarangi, Guitar. Check the song out and experience the new dawn of music with Mihir and Rahgir.
Article by Palak Chatwani
Edited by Deepak D.
Cover Photo Credit to Aashish Fonseca