Sukriti and Prakriti have been in the music industry for a while, and they have been consistently forging a mark for themselves. Their songs have uncanny habit of striking with the listeners and they have one of the most loyal fan base across the board. Twinning on most of the occasions, they have created a unique space for sister duos across the industry. 2022 has been a highlight of their career so far and we thought it would be a great idea to chat with them and find out more. Here are the excerpts of our quick interaction.
2022 has been a very exciting year for you ending the year with Kya Say. What have been the personal key highlights for you this year?
Looking back at this year we feel very very happy. Every year we chalk out goals and try to find a brand new perspective & vision and we try to implement it the following year. This year was dedicated to reinventing ourselves as artists and doing something we haven't tried before. We started the year with a super entertaining & commercial wedding song called "Single Saiyyan" which was something we hadn't tried before. Later, we were the official new hosts of MTV Beats & new faces of "Dil Beats Season 4". Moving forward with individual collaborations for duets, then we also did our first ever romantic non film single called "Dobara". Of course collaborations have been a huge theme this year and what better than having a collaboration with India's most prominent artist – Badshah to end the year.
How has been the experience of collaborating with Badshah and closing the year with Kya Say?
Badshah is truly one of the most hardworking, talented & genuine souls we've ever had the privilege of working & collaborating with. His attitude of always wanting perfection & working round the clock, staying so focused & motivated at whatever he's doing has inspired us a lot!
We started working on this song a little over a year ago but due to his and our schedules, it took some time to come together. But we couldn't be happier with the timing and what we've been able to achieve with this project. I hope we can do this all over again!
Watch "Kya Say" here:
Vyrl and SuPra have been churning out some belters. What makes this combination successful?
We've been in a very amazing association with Vyrl Originals since 2019. We've done about 10-11 singles together and every time tried to do something new together. The team at Universal Music India and Vyrl Originals is honestly the best and they help us discover ourselves as artists and push our boundaries. It's truly because of them that we first discovered that we could compose and write our own music and we very fondly call them our music family.
2023 is going to be another year where we bring to you something new and exciting! Every artist needs a support system and shared vision and, gladly with Vyrl Originals we did find that.
Artists as Brands, how much do you believe in the theory and what is needed for artists to maintain their Brand Value?
Every artist can be a brand, every artist is a brand. Every artist must brand herself or himself and truly know what they bring to the table, what's unique about them, what's their selling point and what makes them different from the rest. Once you figure out those things about yourself, you as an artist can brand yourself. It's important to carve out a niche and a distinguishing factor about your brand. At the same time, it's important to stand for something, believe in something strongly or follow and own a genre that you love the most or are the most passionate about. Work on that and try to be the best at that every day. Being consistent & being authentic is super important and that further helps the connection with their audiences. It's very very important as an artist to create value through their music.
Watch "Dobara" here:
Do you have any plans to do an official India tour for your fans in 2023?
Absolutely. We are currently working on a debut album which will release in 2023. Following that with an India Tour is just what's our agenda in the coming times. Taking the music, you made in closed walls, to your fans in other cities is really what the dream is.
What is a regular day the life of Sukriti and Prakriti like?
A regular day in our lives starts usually with chai followed by lots of cuddles with our dog Popcorn. Gym followed by breakfast and finishing pending work emails before lunch. Afternoons and evenings are usually spent in our studio watching, listening or creating new music. Nights are for family dinners, cooking or a night out with friends if it's the weekend or a free day.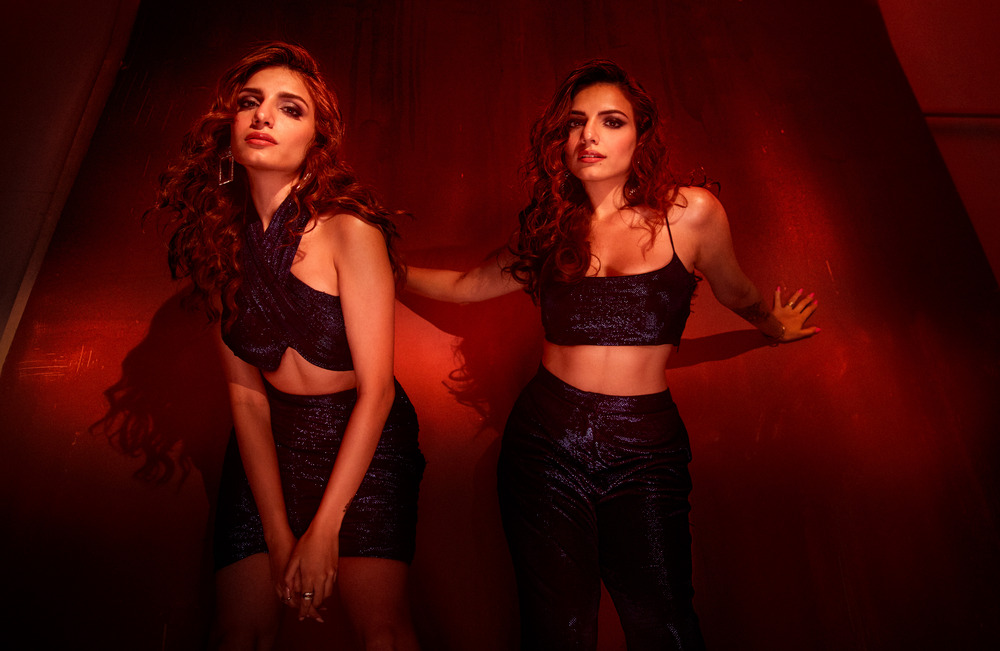 Any message to your fans?
Just a very heartfelt and warm THANK YOU for celebrating every small and big milestone and win with us. They are the source of our motivation on most days and always want to thank them for being patient with our pace of releasing music.
Album followed by India Tour in 2023 sounds the most exciting news coming from Supra. We are sure fans will be elated to here this and will be waiting for the announcements. To be fair, we will be hooked to know more as well 😊
Photo Credits
Photographer- Tejas Nerurkar
Hair and Makeup – Twinkle ( @truebyyou)
Styling – Pallakh Shah
Article by Sneha N