Riva Kishan, someone who has seen the glitz from a very young age, is here to make a journey of her own. In her latest song, 'Bewafa Se Pyaar Kiya', she has created a huge mark with her subtle yet impactful, crisp performance as the lead in the song. We had an interaction with her, to know more about herself, her work, etc. Read on to know more:
You come from a superstar family having seen song making over years. How different it is when you see v/s when you do it yourself?
Honestly, the first thing is the realisation that it is much more than what you see. From one corner of the vanity van as a kid to the efforts, dedication, passion required to actually make it happen is the biggest take away. I enjoyed the process, as you won't get anywhere if you don't love what you are doing. It was a fun time seeing my Dad in songs, but now, when I do it in the scorching heat, boiling sand, etc., you get to realise the 'fun' that existed in your head, something you weren't told about!
Watch the song here:
How easy or difficult was to play the character in 'Bewafa Se Pyaar Kiya'?
It was about replicating the environment that you see in the general society. You have seen people cheating and the ones who have been cheated upon. It was relatable from an experiential emotion perspective that you see through your friends and from society in general. However, it was fun to portray this character given the fact that there was also a balanced approach taken in the video. The character does realise in the end about its mistake, giving a correct message overall.
How did this collaboration with T Series come about?
This happened out of nowhere! The day I got an offer from T Series to do a song with them, I was very excited and happy about it. I have watched their logo since my childhood, on the songs, in the movies, etc. and here I was, being a part, under the umbrella of T Series. I shared with my father too, that I really don't care about which song I will be into, all I know is that I am in good company!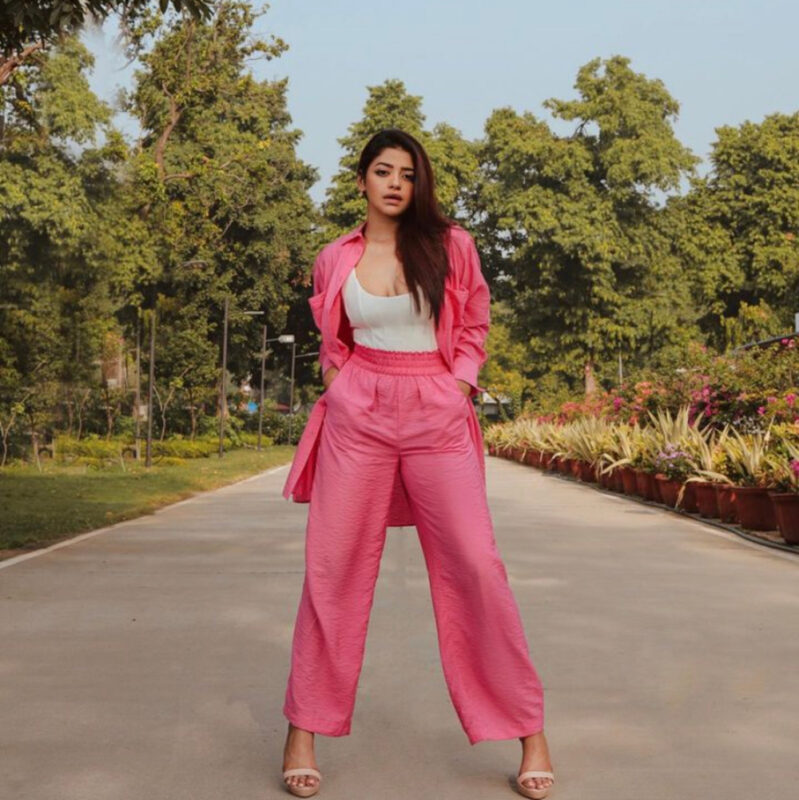 How was your experience working with T Series team?
I felt welcome, comfortable and happy working with the team at T Series. Donati Media was also great at their craft. I was shooting at Chandigarh and most of the team members were talking to me in Punjabi. While I can't speak Punjabi, I can understand it to an extent, it was a different zone for me, it was fun to experience this!
You have done this song and people know you otherwise too, but, what is the identity of Riva Kishan?
First and foremost, Riva Kishan is a hard-working girl. I am not the person who is out there to be presented in a certain way, I want to explore, as I am confident that I can be myself. One thing you will find in me is that I don't have a giving up attitude no matter how tough it gets to get the work done at its best.
What is next planned with T Series or otherwise?
With T Series, I will definitely look to understand what more can be done, with their teams. Apart from this, I have two films in the pipeline which are being worked on. At this point things are in discussion stage so it can be shared with details when the technical parts are locked in. So yes, there are thing in WIP, and would love to share at the right time.
How draining it is on you to manage social media, which is becoming the biggest ask for artists these days?
Putting yourself out there on social media is the biggest ask these days for sure. People want to know more about you and want to connect, and social media is the best platform for this. However, I am slightly hot and cold about social media. There are days when I am all kicked about engaging on social media and there are days I am very lazy about it! I would however, say, that one must be himself or herself and not be carried away by what you always see on social media.
Can you please elaborate more on this?
Firstly, social media can lead to a lot of misconceptions, if not understood well. It can generate virtual comparison leading into believing in a lot of myths. I was also carried away by it at a time when I used to see girls being in a certain kind of shape and size. This led to me thinking about being in the same mould too, I thought it would be better for me as an actress. But then I realised that happiness is more important to one's life. So, I decided to balance my life with fitness and happiness, living in the moment and staying out of the grid of comparison within the realm of social media. I would always feel more comfortable with the concept of body positivity.
What does Body Positivity mean to you and would you like to work more for it from awareness point of view?
Body Positivity, to me, is about being happy with yourself and being the way you are. I would love to promote body positivity in general. I have seen friends and people in who have been consumed by their imaginary thought of not being the best due to their body shape. This never made sense to me as there is always more to a human being than his or her shape. You can surely work towards your fitness, but not being your best is not confined to physical fitness. Don't work out to fit into the world, work out to keep yourself happy and energetic, if that works for you.
Well, this is Riva Kishan, check out her work and bear in mind that Riva is not just an actress, she is a deserving role model for her thoughts and the identity she represents!